After months of speculation, it has now been officially confirmed that Spider-Man: Into the Spider-Verse will include Spider-Ham and he's voiced by comedian John Mulaney.
Though Spider-Ham is the coolest of the reveals for Spider-Man: Into the Spider-Verse, he wasn't the only reveal today at Comic-Con.
The three recent additions will be joining the Miles Morales version of Spider-Man with Gwen Stacy, aka Spider-Gwen.
Spider-Ham is known as a parody of Spider-Man, so it will be really cool to see how Phil Lord and Chris Miller decided to utilize the character in Spider-Man: Into the Spider-Verse.
Peter Porker first appeared in the one-shot humor comic book entitled Marvel Tails Starring Peter Porker, the Spectacular Spider-Ham, which then turned into a bi-monthly comic series published under Marvel's Star Comics imprint.
While promoting Spider-Man: Into the Spider-Verse, Chris Miller and Phil Lord have said that they wanted to take the animation and turn it into a living comic book.
Spider-Man: Into the Spider-Verse opens in theaters on December 14th of this year, so you can expect to see some more footage from the film as the release date nears.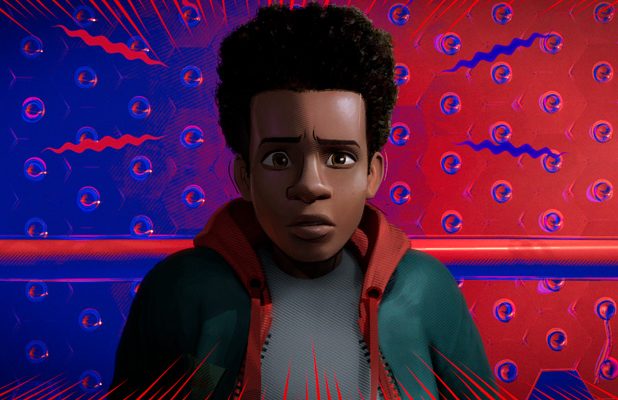 Hilarious New 'Spider-Man: Into the Spider-Verse' Footage Unleashes All the Spider-People
"Into the Spider-Verse" focuses on Miles Morales, a boy who comes to realize he has spider powers just like Peter Parker.
In new footage shown during the panel, we see how Miles, a young Brooklyn kid, meets the original Spider-Man.
That's the crux of "Into the Spider-Verse," as revealed by the movie's first trailer: it finds Miles teaming up with Peter Parker from another universe, with Peter mentoring Miles on how to be his universe's friendly neighborhood Spider-Man.
The biggest sequence in the footage saw Miles visits Peter's grave, only to have the alternate universe version of Peter come up behind him – who Miles instinctively and accidentally knocks out.
Some cops arrive moments later, forcing Miles to carry an unconscious Peter Parker away sneakily – but things get complicated when Miles accidentally shoots his web at an elevated train and gets dragged through the streets.
The footage ended with Miles and Peter finding themselves in the Spider-Verse meeting Spider-Gwen, Spider-Ham, Spider-Man Noir and Penny Parker, another alternate universe version of the hero.
Liev Schreiber plays the crime lord Kingpin, Mahershala Ali is Miles' influential uncle Aaron, Brian Tyree Henry plays Miles' father, Jefferson, Luna Lauren Velez is Miles' mother Rio, and Lily Tomlin plays Aunt May. "Spider-Man: Into the Spider-Verse" is produced by Lord and Miller.
LOOK: Sony Reveals New Concept Art for 'Spider-Man: Into the Spider-Verse'
Spider-Man: Into the Spider-Verse gets a new image, castings, and Comic-Con interviews
Although Marvel Studios opted to skip Comic-Con this year, Sony brought some Marvel fun to Hall H yesterday, with the studio showcasing both its live-action Spider-Man spinoff Venom and its animated feature Spider-Man: Into the Spider-Verse.
While fans in attendance were treated to some new footage from Into the Spider-Verse, Sony has opted against releasing it online.
SEE ALSO: The Green Goblin featured in concept art from Spider-Man: Into the Spider-Verse.
During the panel it was also confirmed that, as rumoured, Nicolas Cage will be lending his voice to Spider-Man Noir, while Kimiko Glenn is voicing SP//dr, a.k.a. Peni Parker, and John Mulaney will portray Spider-Ham.
Phil Lord and Christopher Miller, the creative minds behind The Lego Movie and 21 Jump Street, bring their unique talents to a fresh vision of a different Spider-Man Universe, with a groundbreaking visual style that's the first of its kind.
Spider-Man: Into the Spider-Verse introduces Brooklyn teen Miles Morales, and the limitless possibilities of the Spider-Verse, where more than one can wear the mask.
The film is produced, in association with Marvel, by Avi Arad, Amy Pascal, Phil Lord, Christopher Miller, and Christina Steinberg.
#SpiderMan, #SpiderHam, #SpiderVerse, #PhilLordAndChristopherMiller, #ComicBook, #SanDiegoComicCon, #MarvelComics, #JohnMulaney, #ParallelUniversesInFiction, #NicolasCage, #SpiderMan, #GwenStacy, #SpiderGwen, #Sony, #Venom, #ListOfDoctorWhoVillains, #Parody, #Oneshot, #Tails, #StarComics, #Imprint, #Spider, #Pig, #HairDryer, #TheLegoMovie, #21JumpStreet, #Lucasfilm, #StarWars, #RonHoward, #SonyPictures
Source:
Spider-Ham Is Definitely In Spider-Man: Into the Spider-Verse
Hilarious New 'Spider-Man: Into the Spider-Verse' Footage Unleashes All the Spider-People
LOOK: Sony Reveals New Concept Art for 'Spider-Man: Into the Spider-Verse'
Spider-Man: Into the Spider-Verse gets a new image, castings, and Comic-Con interviews