Better known as Skrillex, has once again gotten back with his 2000s emo band From First to Last.
They released a new track called "Surrender," which Skrillex co-wrote and co-produced.
They shared a link via social media-find the link below.
— From First To Last (@FFTLAST) July 24, 2018
Moore fronted From First to Last from 2004 to 2007, singing on their two Epitaph albums Dear Diary, My Teen Angst Has a Bodycount and Heroine.
Last year, Moore celebrated his birthday with a surprise FFTL track called "Make War." He also joined them for a reunion show at Los Angeles' Emo Night.
Skrillex also shared several tracks last year, including "Chicken Soup," "Would You Ever," and his remix of Kendrick Lamar's "HUMBLE." He also teamed with Ty Dolla $ign and Damian Marley on "So Am I," and with DJ Sliink and Wale on "Saint Laurent."
Hear Skrillex Reunite With From First to Last on 'Make War'
Sonny "Skrillex" Moore celebrated his 29th birthday Sunday with a surprise for fans as the EDM producer reunited with his former emo outfit From First to Last for a new track titled "Make War.".
According to the group, "Sonny co-wrote the track in addition to lending his vocals and production skills for the original band's first reunion in more than a decade, with all other original members returning for their respective roles."
Moore served as From First to Last's vocalist on a pair of albums, 2004's Dear Diary, My Teen Angst Has a Bodycount and 2006's Heroine, before Moore left the group due to a desire to work on his own music as well as concerns about permanently damaging his vocal cords.
After releasing 2009's Gypsyhook under his own name, Skrillex formally announced his arrival into the EDM world with the 2010 EP My Name Is Skrillex.
Rumors of a Skrillex/From First to Last reunion have circulated since the summer, when Skrillex used his Beats 1 radio show to preview what was assumed to be a new track from the band featuring Moore on vocals.
From First to Last vocalist Spencer Sotelo, who sang on the band's 2015 LP Dead Trees and parted ways with the band in August, also hinted that a reunion with Moore could be forthcoming.
Whether Moore's reunion with From First to Last is simply a one-off birthday gift to fans or a full-fledged reformation remains unclear.
Skrillex Reunites With Former Emo Band To 'Make War,' Accused Of Stealing Cover Art
It's been more than a decade since Skrillex, whose real name is Sonny Moore, and From First to Last have worked together.
After launching his solo career, Skrillex started out under his own name, Sonny Moore, before making the transition to Skrillex.
From First to Last vocalist Spencer Sotelo, who left the band in August, also suggested that Skrillex could reunite with From First to Last.
Since last summer, the group's official Facebook page has been posting photos from the 2000s, when Skrillex was part of the band.
From First to Last's Facebook page even shared an Alternative Press article featuring footage of Skrillex singing a new track.
A San Francisco-based band Culture Abuse took to social media to slam Skrillex's latest track's artwork for looking way too similar to the artwork for their 2016 album Peach.
On New Year's Eve, Skrillex showed "Some love" to Justin Bieber and Marshmello, when he joined them onstage to perform the pop idol's hit song "Sorry," according to Your EDM. The collaborative show between Skrillex, Bieber, and Marshmello took place at Miami's Fontainebleau and included a $500,000 ultimate VIP experience.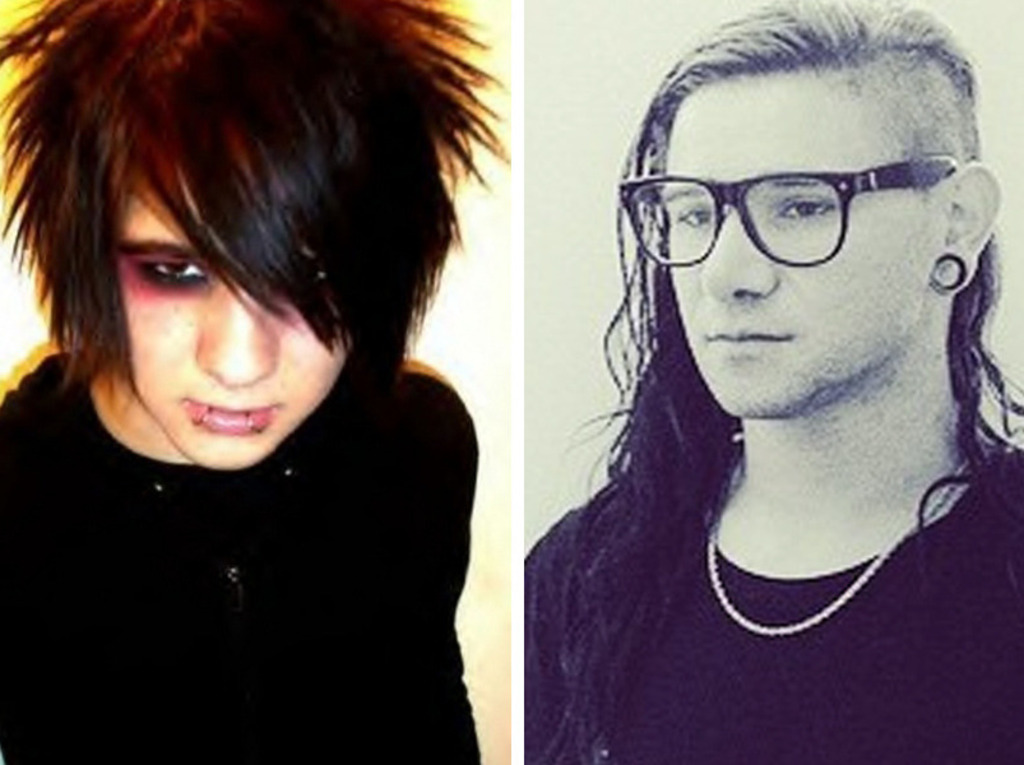 Skrillex, aka Sonny Moore, might be reuniting with former emo band From First to Last – Entertainment – NZ Herald News
It turns out emo band From First to Last may be reuniting with its former lead singer Sonny Moore, better known as electronic musician Skrillex.
Skrillex appeared on Apple's Beats 1 radio show and played a brand new song reminiscent of his old band's sound, with what sounds like his own vocals.
While fans have dismissed it as an old demo from the band's heyday, the band fuelled reunion rumours by sharing a link to the track on its official Facebook page, and then later sharing a link to a story about a potential reunion with no other comment except a single heart emoji.
While nothing has been confirmed yet, the fans started firing off in the comments section, with many ecstatic about the possible return of Skrillex.
One wrote: "Now I know what it feels like to be one of the fans that were freaking out about a possible reunion, I don't think my heart can physically handle it if this isn't happening".
While another added: "The day Sonny left, I…started sobbing uncontrollably. No one understood. You guys helped me so much."Unfortunately I was never able to see you live.
This gives me so much hope and I cried hearing the bonus track.
#Skrillex, #Emo, #Pitchfork, #Singing, #BodyCount, #LosAngeles, #Remix, #KendrickLamar, #Humble, #TyDollaSign, #DamianMarley, #DJ, #DiscJockey, #Wale
Source:
Skrillex Shares New From First to Last Song "Surrender": Listen | Pitchfork
Hear Skrillex Reunite With From First to Last on 'Make War'
Skrillex Reunites With Former Emo Band To 'Make War,' Accused Of Stealing Cover Art
Skrillex, aka Sonny Moore, might be reuniting with former emo band From First to Last – Entertainment – NZ Herald News