In the clip for his ne series "Who Is America?" Cohen dons the disguise of a new character, Colonel Erran Morad, a so-called anti-terrorism expert.
In the preview, Morad does an exploration into America's issue with school shootings mockingly advocating for arming children as young as four.
He sits down with Virginia Citizens Defense League president, and gun-rights advocate, Philip van Cleave, to trick him into saying some questionable things about 2nd Amendment rights in the U.S. He even goes as far as to get van Cleave to star in a fake instructional video that seeks to use pleasant animals and cartoon characters to explain how to use guns, rifles and even rocket launchers to kindergarteners.
He even gets a slew of republican congressmen and senators to voice their support for the prankster's fake program "Kinderguardians," a fictional three-week programthat boasts giving toddlers training with arms.
Despite one congressman noting that politicians typically don't hear about a program and then voice their support for it publicly, several do on camera.
Perhaps the person that comes off looking the most scathed by Cohen's prank is executive director of emeritus of Gun Owners of America Larry Pratt.
At the end of the video, he recites language that's apparently from a teleprompter citing fake facts that include the misused names of pop culture figures like Cardi B, Rita Ora and Blink-182.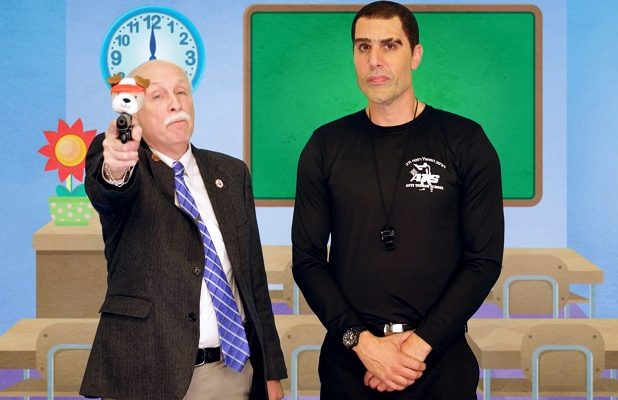 Watch Sacha Baron Cohen Clown Pro-Gun Republicans on 'Who Is America?': 'Happy Shooting, Kids' (Video)
Sacha Baron Cohen got a number of conservatives to endorse giving guns to three-year-olds, and to even sing about the fictional "Kinderguardians" program.
Erran Morad, Baron Cohen discussed gun control with a number of pro-gun advocates, and got them to go all-in on advocating arming toddlers.
Baron Cohen started with Virginia Citizens Defense League President Philip Van Cleave, with whom he discussed the idea of arming children.
Van Cleave mentioned that he had worked on a program that would train seventh and eighth graders in gun usage.
Morad asks Van Cleave to help him make an instructional video on gun usage for three-year-olds, to which Van Cleave agrees.
"We in America would be wise to implement it too. It's something we should think about in America, about putting guns in the hands of law-abiding citizens, good guys, whether they be teachers or whether they actually be talented children or highly trained preschoolers."
"The only way to stop a bad guy with a gun is a good kid with a gun," Lott, Pratt and Walsh each said.
Sacha Baron Cohen Wants to Arm America's Toddlers in This Who Is America? Clip
For the first clip of Sacha Baron Cohen's Who Is America? series is all about guns, or more tantalizingly, how to get "Deadly weapons into the hands of American schoolchildren" with the help of some enthusiastic gun rights activists and politicians.
Anti-terror expert "Col. Erran Morad" managed to get everyone from Virginia Citizens Defense League president Philip van Cleave to lead an instructional gun video for toddlers – "Remember to point Puppy Pistol's mouth right in the middle of the bad man, if he has a big tummy, point at that!" – to Joe Walsh and Republican congressmen from across the country to support this program.
It's perhaps Larry Pratt, the the executive director emeritus of Gun Owners of America, who comes out the most scathed, thanks to reciting teleprompter dialogue such as "Children under five also have elevated levels of the pheromone Blink-182, produced by the part of the liver known as the Rita Ora." Oh, and also because he audibly swoons when he learns Col.

Sacha Baron Cohen Got Republican Lawmakers To Endorse Idea Of Arming Kindergartners
Sacha Baron Cohen takes on the gun lobby in the first episode of his new Showtime series, Who Is America? The Borat prankster once got an entire rodeo crowd to cheer for what he described as America's "War of terror" in Iraq, and now he has Republican lawmakers advocating for arming schoolchildren.
Sacha Baron Cohen keeps on managing to fool people with his disguises, even though his unconventional method of making moviegoers and TV viewers laugh has made him stand out in the world comedy.
Cohen's first target is the NRA. While posing as Morad, he complains about the gun rights organization's plan to arm teachers, calling it "Crazy." However, it's not because he thinks that it's a bad idea to have guns in the classroom; he says that America should be arming its children, instead. Morad then sets out on a quest to get politicians to back his "Kinderguardians" program, which is aimed at putting firearms in the tiny hands of toddlers.
Sacha Baron Cohen wants to arm America's toddlers, whatever the cost, in this Who Is America?
He labeled the tactics that Cohen used to gain access to powerful politicians "Disgusting," and he joined Sarah Palin – another person who has complained about being duped by Cohen – in calling for a boycott of the show.
For the first episode of Who Is America?, Sacha Baron Cohen also filmed sit-downs with Larry Pratt, the executive director emeritus of Gun Owners of America, and Philip Van Cleave, head of the Virginia Citizens Defense League.
Republicans back guns for kids in Sacha Baron Cohen's new show https://t.
#SachaBaronCohen, #Showtime, #CardiB, #RitaOra, #Blink182, #WHO, #WorldHealthOrganization, #DonaldTrump, #SarahPalin, #TedKoppel, #RoyMoore, #JoeArpaio, #Colonel, #Counterterrorism, #SecondAmendmentToTheUnitedStatesConstitution, #Star, #Cartoon, #Rocket, #Republicanism, #Emeritus, #Teleprompter, #PopularCulture, #FakeNews, #Homosexuality, #PoliticalCorrectness, #SlowMotion, #Pheromone, #Liver, #Nerve, #NeuralPathway, #WizKhalifa
Source:
Sacha Baron Cohen tricks gun-rights advocates, politicians in first preview of new show 'Who Is America?'
Watch Sacha Baron Cohen Clown Pro-Gun Republicans on 'Who Is America?': 'Happy Shooting, Kids' (Video)
Sacha Baron Cohen Wants to Arm America's Toddlers in This Who Is America? Clip
Sacha Baron Cohen Got Republican Lawmakers To Endorse Idea Of Arming Kindergartners